www:wonder
Spoiler: The advent of Webmind — a vast consciousness that spontaneously emerged from the infrastructure of the World Wide Web — is changing everything. From curing cancer to easing international tensions, Webmind seems a boon to humanity.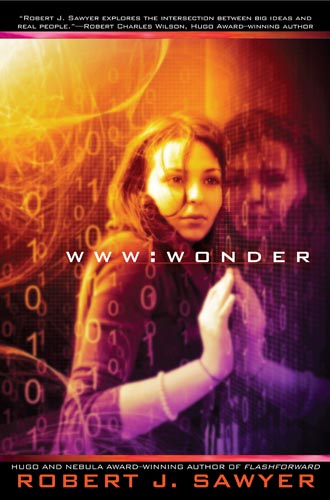 But Colonel Peyton Hume, the Pentagon's top expert on artificial intelligence, is convinced Webmind is a threat. He turns to the hacker underground to help him bring Webmind down. But soon hackers start mysteriously vanishing. Is Webmind killing them before they can mount an attack?
Caitlin Decter — the once-blind sixteen-year-old math genius who discovered Webmind — desperately tries to protect her friend. Can this new world of wonder survive — or will everything, Webmind included, come crashing down?
Par Robert James SAWYER, ISBN 978-0-441-01976-2.
Arsouyes' opinion
😒 tbowan
Like its predecessors, this book is easy to read and addresses the last question… And after? This book therefore addresses the interactions between this omnipotent intelligence and the human population.
The phantasy of widespread surveillance avoiding crime is running wild here. Its drifts being avoided by the fundamentally good character of AI, the realization of the ideal despote enlightened.
The goodness of the AI being justified once again by game theory but also, novelty, by its superior intelligence which allows it to apprehend these concepts. Fallacious angle because as much I had appreciated the originality in the previous one as much I find this one a bit supremacist.
I was greatly disappointed with the return of the secondary quests. They do not add anything new, except for pages of text. Too many, they drown the real subjects approached by this epilogue which would have deserved to be integrated into the previous one.
😒 aryliin
And we start again with the slow pace, with the return of the subplots that slow the story down.
The book is too focused from a Western / American point of view, where China is presented as absolute evil and the USA as the pinnacle of democracy.
The Chinese government's surveillance of its citizens is condemned by the author. But what the author proposes is of the same ilk: a general and universal surveillance of all world trade by Webmind.
Under the guise of charity, the author excuses excessive surveillance and the seizure of power. The characters in the books sell their souls and that doesn't seem to be a problem for them.
Affiliation