Blade Runner - Do Androids Dream of Electric Sheep?
aryliin & tbowan
Disponible en français
September 7th 2020
Spoiler: Famous thanks to its adaptation to the cinema by Ridley Scott, this book by Philip K Dick asks us the question of the place of androids in our societies.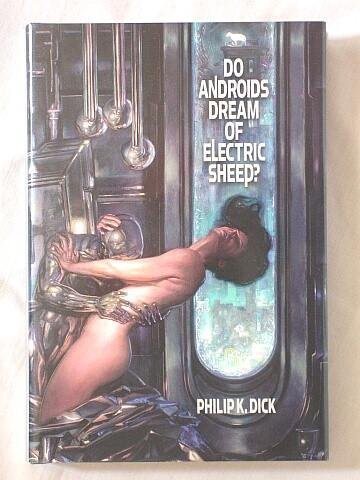 By 2021, the World War has killed millions, driving entire species into extinction and sending mankind off-planet. Those who remain covet any living creature, and for people who can't afford one, companies built incredibly realistic simulacra: horses, birds, cats, sheep. They've even built humans. Immigrants to Mars receive androids so sophisticated they are indistinguishable from true men or women. Fearful of the havoc these artificial humans can wreak, the government bans them from Earth. Driven into hiding, unauthorized androids live among human beings, undetected. Rick Deckard, an officially sanctioned bounty hunter, is commissioned to find rogue androids and "retire" them. But when cornered, androids fight back—with lethal force.
By Philip Kindred Dick in 1968, ISBN 978-1-61523-359-5, and many times since.
Arsouyes' opinion
😒 aryliin
As is often with books like this one, you have to give the story time to get started. After a slow first chapter, we quickly get caught up in the story. The writing is fluid and simple. The book reads well.
A few ellipses that are a little too big spoil the reading. And in many passages, we do not understand the sudden turnaround, which was not brought about by the author. Likewise, certain elements of the plot are too big to be credible.
A book of action, yet philosophical, it asks deep questions about what humanity is. It is a pity that the philosophical parts are full of esotericism and become difficult to understand: it is difficult to understand where the author is coming from, what he is talking about, etc …
In short, a book that can be read quickly, which is very interesting, but that I'm not sure I want to read again one day.
😒 tbowan
We enter this book like butter: the author and his translator have produced a text that can be read quickly and easily. The time to raise your head and you are already at the heart of the action without being able to let go.
In a world where failing robots are on the run, blade runners are tasked with detecting, tracking and eliminating them. But faced with the sophistication of robots and the obsolescence of Turing tests, how do you differentiate robots from humans?
On another reading level, this book is actually about racism. In a post-apocalyptic world, death is everywhere (misery or irradiation) and faced with this permanent anxiety, everyone finds their solution … flight into space or psychotropic drugs for some, ethnocentrism for others. For blade runners, hunting down androids is about more than fixing a bug, it is about the survival of humanity.
Until the outcome, we are suspended on the choice of the hero. Will he find the difference, eliminate the last fugitives and be able to live in peace? Or accept death, difference and the existence of androids.
Affiliatin