Eternity Incorporated
aryliin & tbowan
Disponible en français
August 9th 2021
Spoiler: Several centuries after civilization was wiped out by an unknown virus, part of the surviving humanity has taken refuge in a bubble city ruled by an omnipotent mainframe.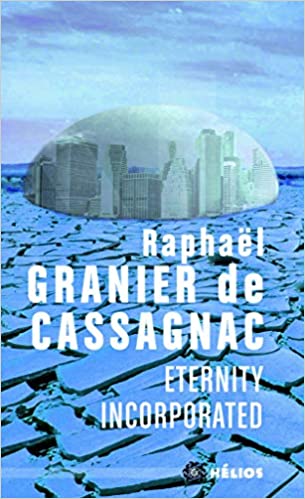 Within this sanctuary, we experience the intersecting destinies of Sean, Ange and Gina. A major change in the order of the Bubble sets them on a dangerous quest for the secrets of the Processor and themselves …
By_Raphaël Granier de Cassagnac_, Mnémos editions , ISBN 978-2354083069. Only in French
Arsouyes' opinion
😒 aryliin
The idea sounded appealing to the cyberpunk fan that I am: With a virus wiping out virtually all of humanity, humanity takes refuge in a sealed and sterilized bubble, run for its own good by artificial intelligence.
But, instead of the cyberpunk book I was expecting, I found myself in the middle of an apocalyptic thriller. Granted, the book is very enjoyable to read, but with a little imagination the plot could have been set at any time.
The book takes up the codes of cyberpunk: the marginalized, their "rave parties" and their drugs, an omnipotent AI, anonymized citizens… And all of this can be seen from the first lines. I had therefore hoped to find myself in a book dealing with the subject of the emergence of a consciousness in the network, of humanity and the soul of an artificial intelligence or even the legitimacy of mass surveillance. … I found myself frustrated because the subject promised in the back cover is not the one dealt with: artificial intelligence is disconnected from the middle of the first chapter and we will not find it before the epilogue, the rest of the book being an investigation to determine why and how it went missing.
I recommend it to anyone looking for a good book to pass the time, but not really for their cyber culture.
😃 tbowan
What if we entrusted the security and management of a whole nation to a super powered AI, to the point that we no longer know how it works? What if this AI suddenly breaks down?
Borrowing "cyber-punk" and "apocalyptic" clichés, this book doesn't actually cover any of the usual topics. If you are looking for hackers in the matrix or mutant attacks, go on your way because you would be disappointed.
For me, the genius of this book is to use these themes to serve, between the lines, the metaphor of a toxic family by showing us the reactions and strategies of children when the protective parent disappears (disclosure, only one strategy works, the others get locked in the cycle).
The big problem with this book is at the end. By seeking to explain to us in detail the nature of AI, the author shatters the atmosphere built up to this point.
Affiliation